---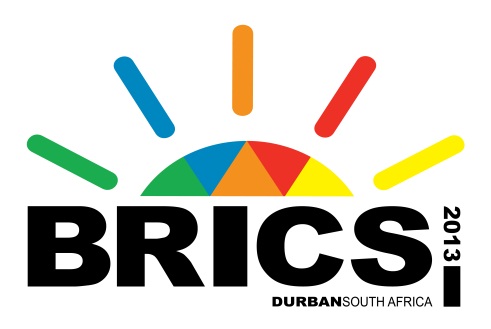 Toast remarks by President Jacob Zuma
at the Gala Dinner in Honour of BRICS Heads of State and Government
Durban, South Africa, March 26, 2013
[see also Analysis by the BRICS Research Group]
Your Excellency, President Rousseff,
Your Excellency President Putin,
Your Excellency, President Xi Jinping,
Your Excellency Prime Minister Singh,
Your Excellencies, Heads of State and Government from our beloved African continent,
Deputy President of the Republic,
Chairperson of the AU Commission,
The Chief Justice of the Republic of South Africa,
Chairperson of the National Council of Provinces,
Deputy Speaker of the National Assembly,
Honourable Ministers representing BRICS and African countries,
Honourable Premier of KwaZulu-Natal, the Executive Mayor of Ethekwini and all representatives of the provincial government,
Your Excellencies Ambassadors,
Members of the business community,
Distinguished guests,
On behalf of Government and the people of South Africa, let me once again extend our warmest welcome to the Leaders from BRICS and Africa, as well as the respective accompanying delegations, on the occasion of South Africa's hosting of the Fifth BRICS Summit.
We thank you sincerely for honouring our humble invitation.
This is a historic occasion for the people of South Africa and Africa since we are hosting the first BRICS Summit on African soil.
BRICS countries and African countries have been fellow travelers on the path to freedom, equality and prosperity.
Our historic ties of solidarity are well-known.
BRICS is meeting in Africa during a significant year.
In May, Africa will celebrate the 50th anniversary of the Organisation of African Unity/African Union. We will celebrate the OAU's role in the struggle to free Africa from the yoke of colonialism.
We will also look back with great appreciation at the contribution of the BRICS countries to the struggle for liberation in many African countries, including our own country, South Africa.
This will thus be a joint celebration in many respects.
We are now working together to enhance cooperation to confront poverty and promote sustainable development.
Our coming together as BRICS and Africa further underscores our shared aspirations to achieve peace, security, growth and development for our people though our partnership.
Through the BRICS partnership, we are witnessing the dawn of a new era in the global arena which is characterized by the rise of emerging markets and developing economies.
BRICS countries are assuming global leadership roles and African countries are repositioning themselves at the centre of global activity, also carrying the promise of becoming future global leaders.
Within a short space of time, this grouping has captured the imagination of the world as a new paradigm for establishing a more equitable global governance model, and find solutions to common challenges.
The theme of the Summit, namely BRICS and Africa: Partnership for Development, Integration and Industrialisation, is specifically intended to bring the new global growth poles together.
We are a new phenomenon in a world that urgently requires a more equitable world order.
The economic benefits of this partnership are visible. Our intra-BRICS trade has grown substantially over the last few years, and will reach half a trillion dollars by 2015. There is a lot of scope for further expansion in the future.
Your Excellencies,
There are many issues on our agenda tomorrow aimed at taking this unique cooperation further.
Amongst these issues, we decided to enter formal negotiations to establish a BRICS-led New development Bank based on our own considerable infrastructure needs which amounts to around 4,5 trillion US dollars over the next five years.
This new bank will also be a vehicle for cooperation with other Emerging Markets and Developing Countries in future. We look forward to discussing the report of our Finance Ministers tomorrow so that we can take this proposal further to fruition.
Our cooperation on global issues of peace and security has also grown significantly.
We served together in 2011 as members of the United Nations Security Council and will continue cooperating on matters of peace and security.
The matters of peace and security are uppermost in our minds especially given the tragic loss of 13 South African soldiers in the Central African Republic this week.
We remain more resolute than ever, in our commitment to contribute to building lasting peace and stability in the continent. What our brave soldiers lived and died for, the achievement of peace in every corner of Africa, must be achieved in our lifetime, in their memory.
Excellencies,
A lot of progress has been made already in the build up to the Summit.
We have witnessed the launch of the BRICS Think-Tank Council and another successful meeting of the BRICS Academic Forum.
The Business Forum met today and we look forward to launching the BRICS Business Forum tomorrow morning.
As you know, I will be hosting the BRICS Leaders Africa Dialogue Forum Retreat after the conclusion of the Fifth BRICS Summit under the theme, "Unlocking Africa's potential: BRICS and Africa Cooperation on Infrastructure".
The Retreat will reflect primarily on infrastructure development, as well as integration and industrialisation, for the mutual benefit of the BRICS countries and the Continent.
I sincerely thank my colleagues, the Heads of State and Government from all regions in the continent for gracing this Summit with their presence.
Your presence has made this a truly African BRICS Summit.
Excellencies, it is our wish, that this 5th BRICS Summit, be remembered as a symbol of the further deepening of relations between nations, who will forever be bound by a history of struggle, sacrifice and common dedication to freedom, justice and the creation of a better life for all.
Excellencies, distinguished guests,
May I, at this point, request you all to please, rise and join me in a toast to the good health of Their Excellencies gathered here tonight and to the prosperity and everlasting friendship of Africa and those of Brazil, Russia, China and India!
To friendship and comradeship!
I thank you.
Source: Official Website of the 2013 BRICS Durban Summit
---